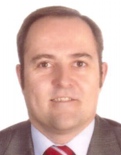 Emilio González Cachero. Madrid, 1971.

egonzalez@bufeteinternacional.com
Law degree, University CEU Luis Vives.
Higher Diploma in Business Administration, University CEU Luis Vives.
Opposition Finance State Inspector.
Member of the Bar Association of Madrid
Member of Bufete Internacional since 2009, Director of Tax area.
He has previously worked as tax and legal advisor in different law firms.
Specialties: commercial law, tax law, bankruptcy law, gaming law.
Languages: Spanish, English.