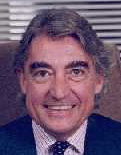 Pedro Pascual Cid - Managing Partner, Lawyer and Economist. Barcelona, 1945.

ppascual@bufeteinternacional.com
Practising Lawyer and Economist since 1971, specialising in Business, Asset and Leisure Law, focusing on their international aspects.
Managing Partner of BUFETE INTERNACIONAL Abogados y Economistas, Madrid.
President of HISPAJURIS A.I.E., a Spanish association of law firms since 1997.
Member of several international lawyers' associations (ICC, IBA, ILA).
Teacher at several universities, has written many conferences and papers on topics related with this profession. Has also published several studies and opinions on the material and legal aspects of the international activities involved in businesses, assets and family businesses.
Languages spoken: Catalán, English, French, Italian and Portuguese.